Which are the best Christmas Markets in Europe in 2023?
As days get shorter, streets become brighter, sparkling and embellished with festive lights. Some Middle and North European countries become most enchanting and beautiful exactly at this time of the year. Especially German, Austrian, Belgian, Polish and Czech cities gain a lot of atmosphere in winter.
So let's immerse ourselves in this lovely atmosphere – there are plenty of charming Christmas markets ready to cheer you up with mulled wine, gingerbread and chestnuts, nostalgic Christmas carols, and ice skating around an oversized Christmas tree! As every year, we bring you the list of the best Christmas Markets of the year! Merry Christmas!
So… Which are the best Christmas Markets in Europe to visit in 2023?
The most iconic Christmas markets are probably the German ones. Germans take the festive decorations to the next level. Expect extremely rich illuminated and decorated stalls looking like huts of fairies, overloaded with sparkling lights, with great variety of structures and enormous range of products offered.
Gifts to buy: Traditional Christmas decorations, wooden nutcrackers, gingerbread.
Food & drinks to taste: Glühwein, obviously – mulled wine is a must to warm up the German winter! Try wonderful traditional gingerbread figures, typical cookies such as Schmalzkuchen and Germknödel, mulled wine in different flavours, egg punch and hot chocolate to warm you up – expect all the best!
Christmas Markets in Berlin – Germany (2019) – All You Need To Know
Berlin boasts dozens of Christmas markets! The most beautiful ones are the following:
1.1 Charlottenburg Palace
Over 250 stalls with food and Christmas decorations in a lovely setting of a castle. A very romantic spot to enjoy the magic of Christmas in a couple.
Address: Schloss Charlottenburg, Berlin
Open: 25 November to 26 December 2023
Mon-Thu 2 pm – 10 pm, Fri-Sun 12 pm – 10 pm, 25th & 26th December 12 pm – 8 pm
Closed on Christmas Eve (24th December)
1.2 Winterwelt in Potsdamer Platz
Its name means Winter World and it's the market that opens as the first one and remains open for the longest time, putting you in the Christmas mood. The highlights include riding the Europe's largest toboggan, don't miss it! There is also curling and ice-skating rank.
Here you will find both German and Austrian Christmas delicacies – you will be charmed by the traditional Austrian peasant hut.
Address: Potsdamer Platz, Berlin
Open: 25 November to 26 December 2023
Daily 10 am – 10 pm
1.3 The Berliner Weinachtszeit in Rotes Rathaus
This lovely Christmas market is set in the frame of St Mary's church and the Red Town Hall. You will surely notice the huge pyramid of lights and enormous Christmas tree, and traditional organ music. Enjoy the variety of artisan products and great food – always waskhed down with Glühwein!
Address: Rathausstraße 15, Berlin
Open: 25 November to 29 December 2023
1.4 WeinachtsZauber at Gendarmenmarkt
This market is located in a beautiful setting of the monuments surrounding it: the Deutscher Dom, the Franzozische Friedrichstadtkirche and the Konzerthaus. It's a classic and many Berliners claim it's the most beautiful one. The magical atmosphere is enhanced by choirs singing carols every day.
Address: Gendarmenmarkt, Berlin
Open: 25 November to 31 December 2023
Daily 11 am – 10 pm
24 December until 6 pm
31 December until 1 am – it closes with a great displays of fireworks!
1.5 Christmas Market Spandau
It's the biggest Christmas market in Berlin and it will surprise you with a medieval market featuring live animals! It has a lot of charm and it's certainly worth a visit.
Address: Altstadt Spandau, Markt 1, Berlin
Open: 25 November – 22 December 2023
Sun-Thu 11 am – 8 pm, Fri-Sat 11 am – 10 pm
Immerse yourself in the truly Christmassy atmosphere in one of the most beautiful capitals of Europe: Prague. Christmas markets in Prague will impress you with the variety and quality of the local handicraft products they offer. Kids will love the Bethlehem scene – a stable with live animals.
The city itself is truly stunning, and in this time of the year, with long evenings filled with Christmas lights it's just a fairytale.
Gifts to buy: Wooden toys, ceramics, hand-made scarves and hats, jewellery, laces, puppets, and traditional hand-made Christmas decorations, local sweets and alcohol.
Read more on Shopping in Prague in our article
Food & drinks to taste: And let's not forget about sweets, food and drinks to make you feel really festive! Typical drinks include not only more obvious mulled wine and hot chocolate, but also some unique surprises, like honey wine – medovina, or grog – a hot drink made of rum, lemon and sugar.
Try the local sweets:  Trdelník warm pastry, palačinky pancakes, and extra-spicy gingerbread. The food to try includes Pražská Šunka – ham roasted on spits, grilled sausages and many other hearty hot food options.
Locations of Prague Christmas Markets
The main Christmas markets in Prague are located in the Old Town Square and Wenceslas Square, which are only 5 mins walking from one another.
Address: Old Town Square: Staroměstské náměstí
Wenceslas Square: Václavské náměstí
Both open: 30 November 2023 – 6th January 2024
Daily 10 am – 10 pm, food stands remain open till midnight
Christmas Markets in Prague, Czech Republic (2019) – All You Need To Know
3. Christmas Market in Kraków – Poland
The Christmas market in Krakow boasts over a century-long tradition. For Poles Christmas is definitely the greatest holiday of the year, celebrated with extremely rich traditions. Kraków, the former capital of the country, is a beautiful city which will please with its authentic atmosphere, great culture, delicious food and spectacular drinks, warm and welcoming bars and restaurants. And if you are lucky – you can get real white Christmas – it is often snowing at this time of the year. Christmas market in Kraków is held in the enormous Main Market Square. There is a lively, cheerful atmosphere, with live performances and choirs singing carols.
Christmas Time in Kraków
In all the churches you will see huge and richly decorated nativity scenes. In Kraków they were turned into art: there is a museum of the special kind of nativity scenes typical for Krakow – "Szopki", representing miniatures of baroque and gothic buildings of the city.
Gifts to buy: local crafts, amber jewellery, sculpted wooden jewel boxes, wooden toys, ceramics, hand-made woollen hats and scarves, sheepskin coats and shoes, artisan Christmas decorations, and a huge variety of Polish sweets.
Food & drinks to taste: Barbecued sheep cheese with cranberry gravy – oscypek, dumplings stuffed with cheese, meat or vegetables – pierogi, grilled sausages, traditional braided ring-shaped bread with poppy seeds – obwarzanek, delicious Polish fresh pastries, soft chewy toffee – krówka, and so many others. Polish Christmas menu is endlessly long, with plenty of exquisite typical dishes and sweets to find in the restaurants all around – there are over 300 of them just in the city centre! And you'll be absolutely amazed by the variety of hot drinks that Poland has to offer! Apart from mulled wine called grzaniec, Poles also drink mulled beer – grzane piwo! It's beer mixed with spices, raspberry juice or ginger syrup and fresh oranges and lemons and served hot – absolutely unique and super delicious! Then there is exquisite hot mead, and hot cocktails of the rich selection of Polish vodkas – you will not find them on the Christmas market itself, but many bars serve them.
Address: Rynek Główny (Main Market Square), Kraków
Open: 30th November – 26th December 2023
Daily 10 am – 10 pm
4. Christmas Markets in Brussels – Belgium
Winter Wonders fair in spectacular Grand Place of Brussels turns the European Union capital into the land of festive joy. You will be amazed by audio-visual displays projected on the monumental buildings of the St. Catherine's Church and the Viage, as well as the high-tech dome housing events from live performances to films and concerts. And kids will meet not only Santa Claus, but even Smurfs! There is also everything else you need to feel Christmassy: 200 chalets full of food and variety of products, huge Christmas tree, the skating rank.
If you get cold – or in case of rain – why not to try the covered Christmas market in Watermael-Boitsfort? It's warm and cosy, and it lets you to relax while shopping perfect Christmas gifts.
Gifts to buy: Artisan products, Belgian chocolates, macarons, world-famous Belgian beer.
Food & drinks to taste: You are in Belgium – obviously you just have to delight yourself with hot waffles and the mind-blowingly-tasty chocolates in infinite flavours, ranging from violette and chestnut to strawberries with balsamico vinegar! They really are superior than any other chocolates you've tried so far. A tip: try chocolates from Valentino Chocolatier, my personal favourites and my highlight of every trip to Belgium!
Address: Grand Place, Brussels
Open: 29 November 2023 – 5 January 2024
Daily 12 pm to 10 pm – except 24th December and 31st December: 12 pm to 6 pm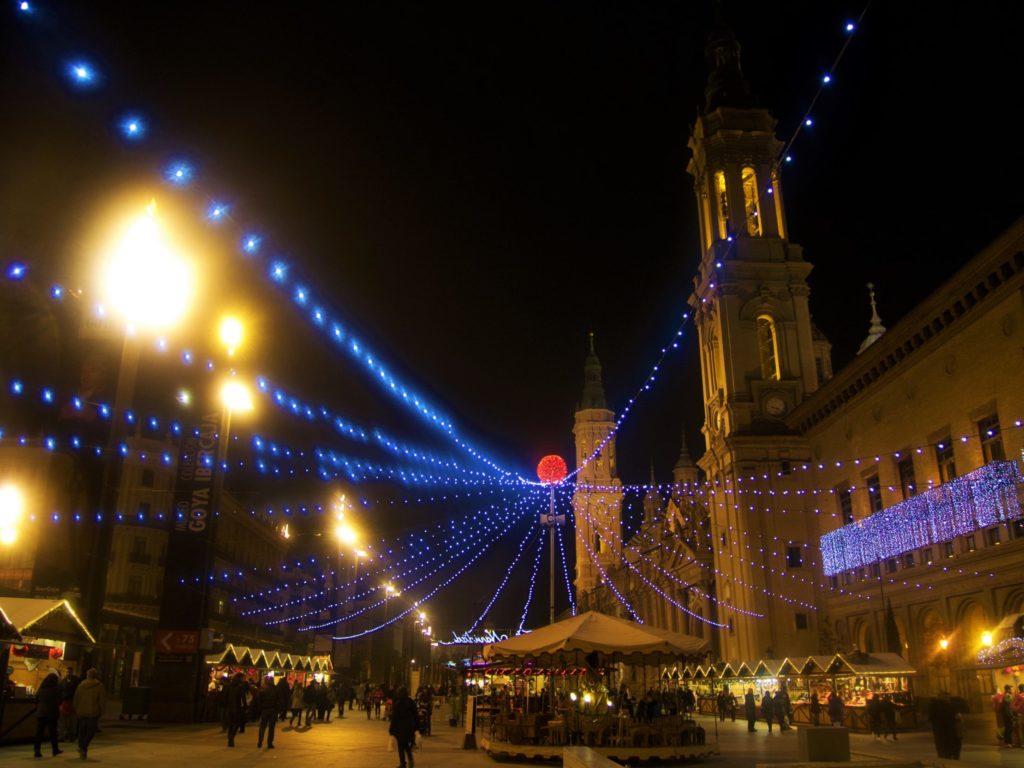 Christmas market in Zaragoza, Spain, with the background on the wonderful Pilar SquareWhen we think about Christmas markets, we have in mind an image of a snow-covered German town rather than a sunny Spanish city, but the pleasantly mild Mediterranean weather make a trip south an attractive break at this time of the year. Spaniards love fiestas and they turn even the religious ones into lively displays of joy. There are some nice Spanish Christmas market and this year we recommend you the one in the beautiful city of Zaragoza, definitely worth visiting.
Christmas Time in Zaragoza
Mercadillo Navideño is organized in the huge and exquisite Plaza del Pilar square. It is sparkling with lights, bursting with music and the air is filled with tasty aromas. There are plenty of live concerts and dance performances daily. You will be surprised by a huge nativity scene with 56 human-size figures, together with with other 50 figures of animals – it's quite impressive indeed. If you want to burn some calories after eating local delicacies, you will find here a skating rink and even a sledging ramp with inflatable sledges! Don't leave without putting your wish on the Wish Tree – it will come true.
Another Christmas market is located along the main street Paseo de la Independencia, with stalls full of tasty food and gift ideas.
Gifts to buy: Artisan products, turrón – Spanish nougat, Spanish cheeses and wine
Food & drinks to taste: Definitely try turrón – Spanish nougat typical for Christmas, polvorones – flour-textured, crumbly and soft kind of Spanish shortbread made of flour, nuts, milk and sugar (I personally hate them, but you must try them at least once in a lifetime! Once will be enough), and churros with chocolate. Try also excellent Spanish cheeses (I highly recommend the one with black truffle) and sausages, they have a very distinct taste. On the stalls you will find lots of street food.
And now the best part: Zaragoza is famous for its tapas – there is an endless variety of them in cosy little bars all around the narrow streets of the neighbourhood called El Tubo.
Address: Plaza del Pilar, Zaragoza
Open: 30th November 2023 – 6th January 2024
Daily 11 am – 2 pm and 4 pm – 9 pm
Read more about the attractions of Zaragoza here.
Definitely one of the most classic Christmas Markets – Vienna organizes it since… 1298! With such an experience, you may be sure it's perfectly organized. There are around 20(!) Christmas Markets dispersed in different places.
Gifts to buy: Artisan old-fashioned toys, traditional Christmas decorations, nut crackers, marzipan bonbons, chocolates, elegant accessories
Food & drinks to taste: Typical hot dish with meat – Bauerngröstl, typical gingerbread hearts, hot sweet mini-pancake-like dessert – Kaiserschmarrn, candied chestnuts, obviously Glühwein – in different flavours, and punch.
Read more about Christmas Markets in Vienna in our dedicated article
Christmas Markets in Vienna – Austria (2019) – All You Need To Know
Here are the best – according to us – Christmas Markets in Vienna:
6.1 Christmas Market at Rathaus
The most iconic one is located in front of – and inside – the beautiful Gothic City Hall, wonderfully decorated and illuminated for the occasion. There are 152 stalls with artisan products, Christmas decorations, toys, and food delicacies. If you like ice-skating, you will be happy – there are 3,000 m2 of ice rinks in the area! Inside the City Hall, there is an area with activities for children, like baking, making ornaments and other handicrafts. A lovely old-fashioned carousel will also be a nice attraction for kids!
Address: Wiener Rathausplatz, Vienna
Open: 15 November – 26 December 2023
Sun-Thu 10 am to 9:30 pm, Fri-Sat 10 am to 10 pm
24th December from 10 am to 6 pm
25th and 26th December from 11 am to 9:30 pm
6.2 Christmas Market at Schönbrunn Palace
Another amazing one is the elegant and stylish Culture & Christmas Market at Schönbrunn Palace, former Habsburgs' residence. You will find here 80 booths not only from Austria, but also the neighbouring countries.
Address: Schönbrunner Schloßstraße 47
Open: 23 November 2023 – 6 January 2024