You might have never heard about the small Dutch town of Delft, however it is very famous in its home country. Actually, it used to be the third biggest – and richest – Dutch city nine centuries ago.
Sometimes the best destinations are not the most well known ones. Little hidden gems where none of your friends has been (yet!) may turn out to be a great surprise!
It's really easy to get to Delft from major Dutch cities. Considering how small the country is, just imagine: Delft is only 1 h away by train from Amsterdam, 14 min away from Rotterdam and only 10 min from The Hague! If you are travelling to the Netherlands for a few days, put it on your list, you won't regret it.
Discover what Delft has to offer!
1. The best aerial view in the Netherlands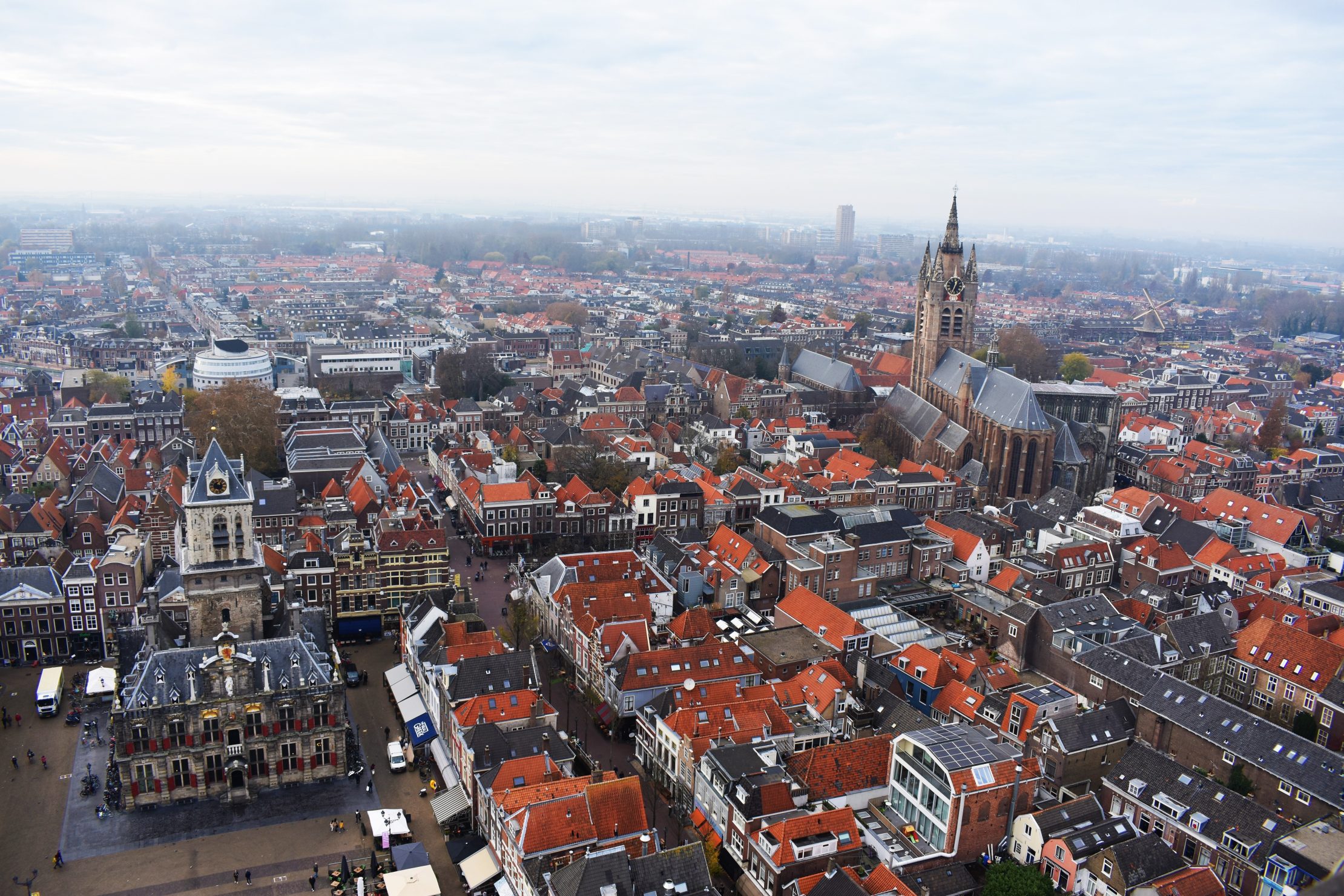 The magnificent New Church (Nieuwe Kerk) is not exactly new – it was built in 1381. Its 109 m tall tower is the second tallest one in the country and offers a spectacular view over historical canals, streets and rooftops of Delft, all the way to The Hague on the horizon. It's by far the best tower view I've seen in the "flat country".
The New Church is the burial place of most members of the Dutch Royal family and it hosts an interesting museum (address: Markt 80).
2. Delft is one of the most charming cities in the Netherlands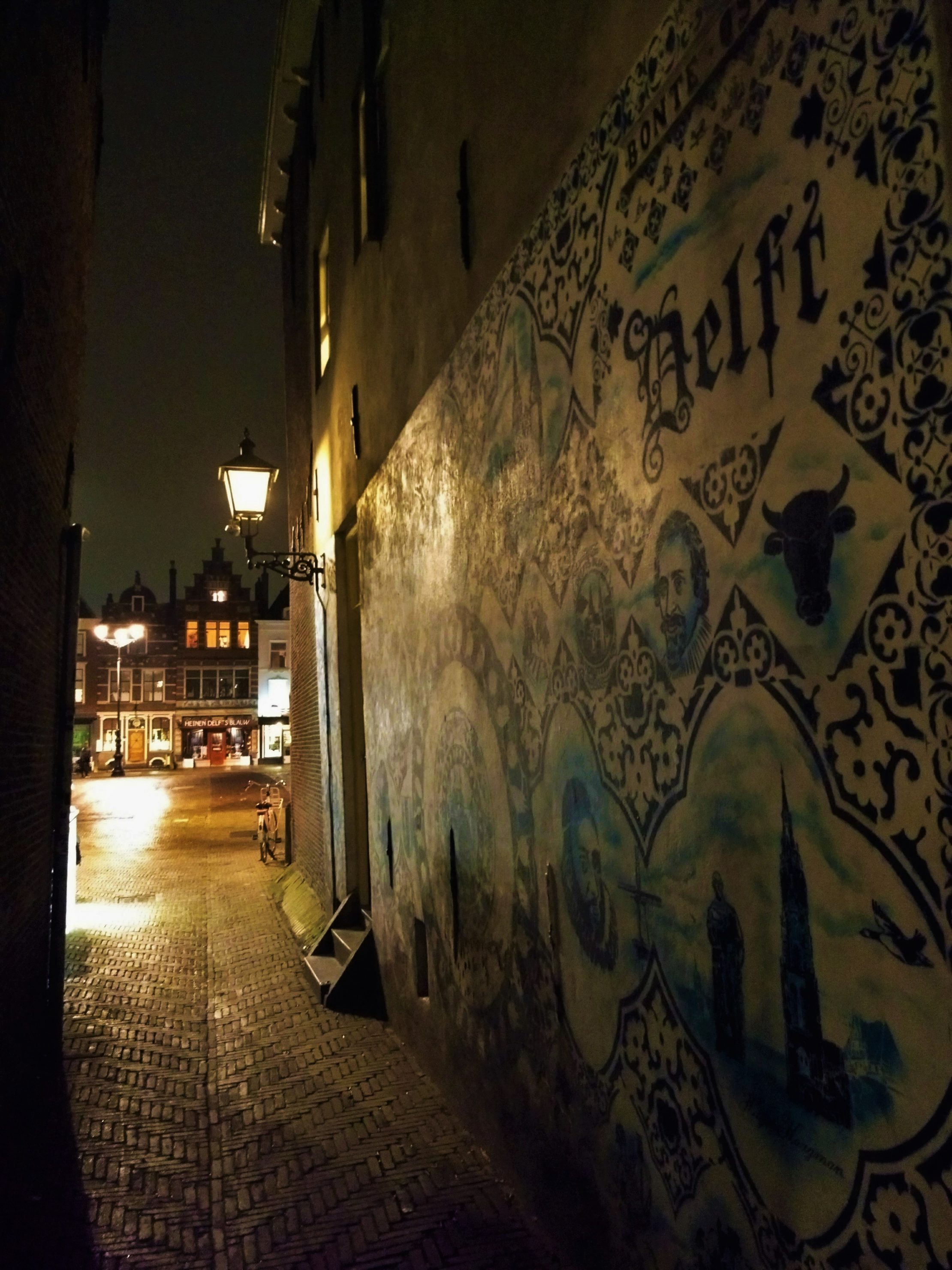 Delft is like a miniature of Amsterdam, but more lovely, more unspoilt by mass tourism, with much more "real Dutch" feel. It is small enough to be seen in a day or two, depending on the museums you wish to visit. It's perfectly walkable, with all the nicest places located close to one another. Apart from the museums of the Old and New Churches with the tower, Vermeer Centrum, there is also Prinsenhof (Princes' Court) museum, Royal Delft and the historical windmill.
The town never fails to make an impression on visitors, with the out-of-time beauty of its narrow canal streets and its nice atmosphere – it's just a pleasure to be here.
3. Perfectly preserved medieval houses, streets and canals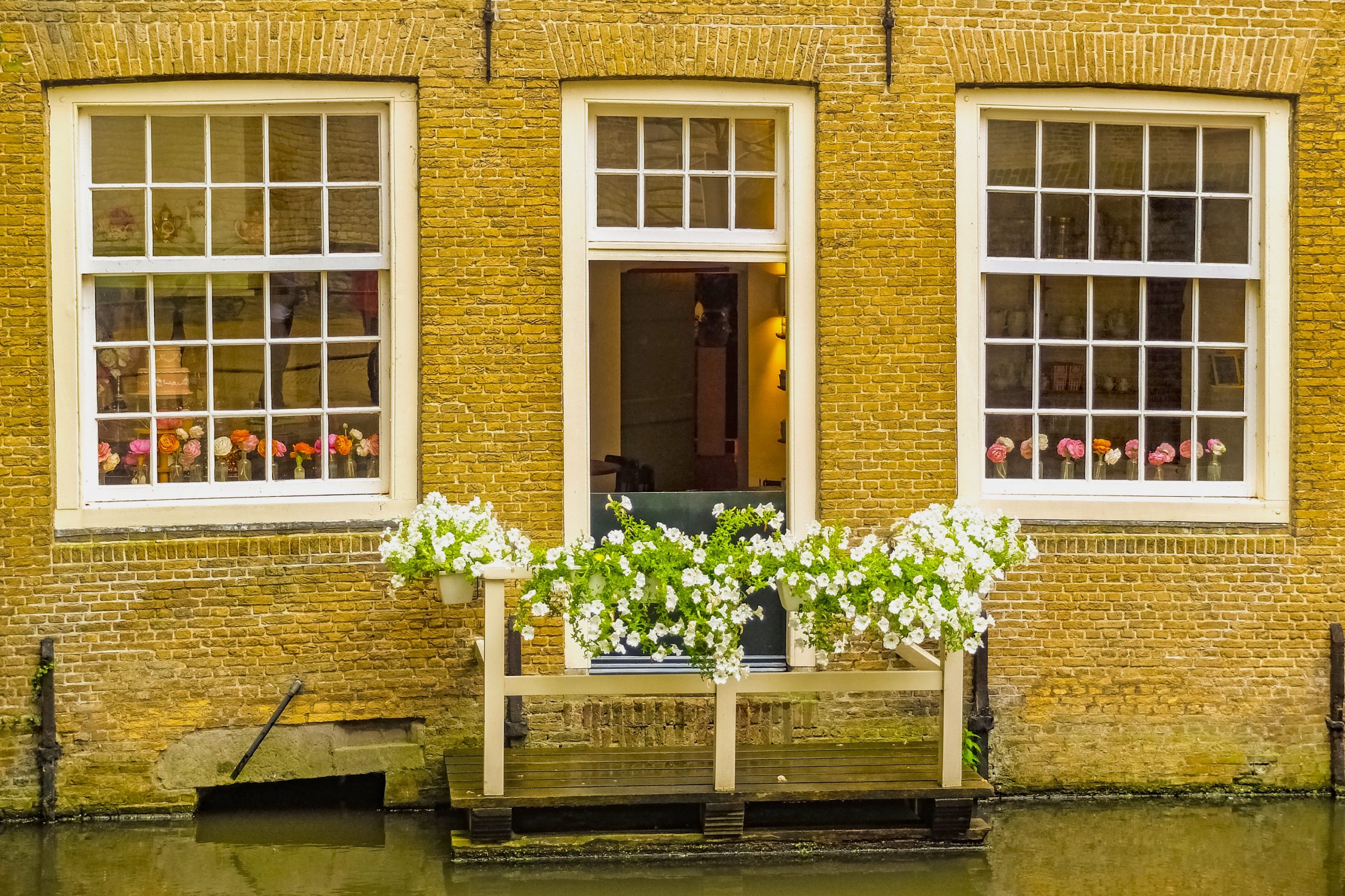 There are extensive parts of Delft untouched by modernity. Its gorgeous medieval and Renaissance urban tissue has been completely preserved. In the evening, when the city centre is illuminated by dim lamps, you will feel taken back in time.
4. The medieval leaning tower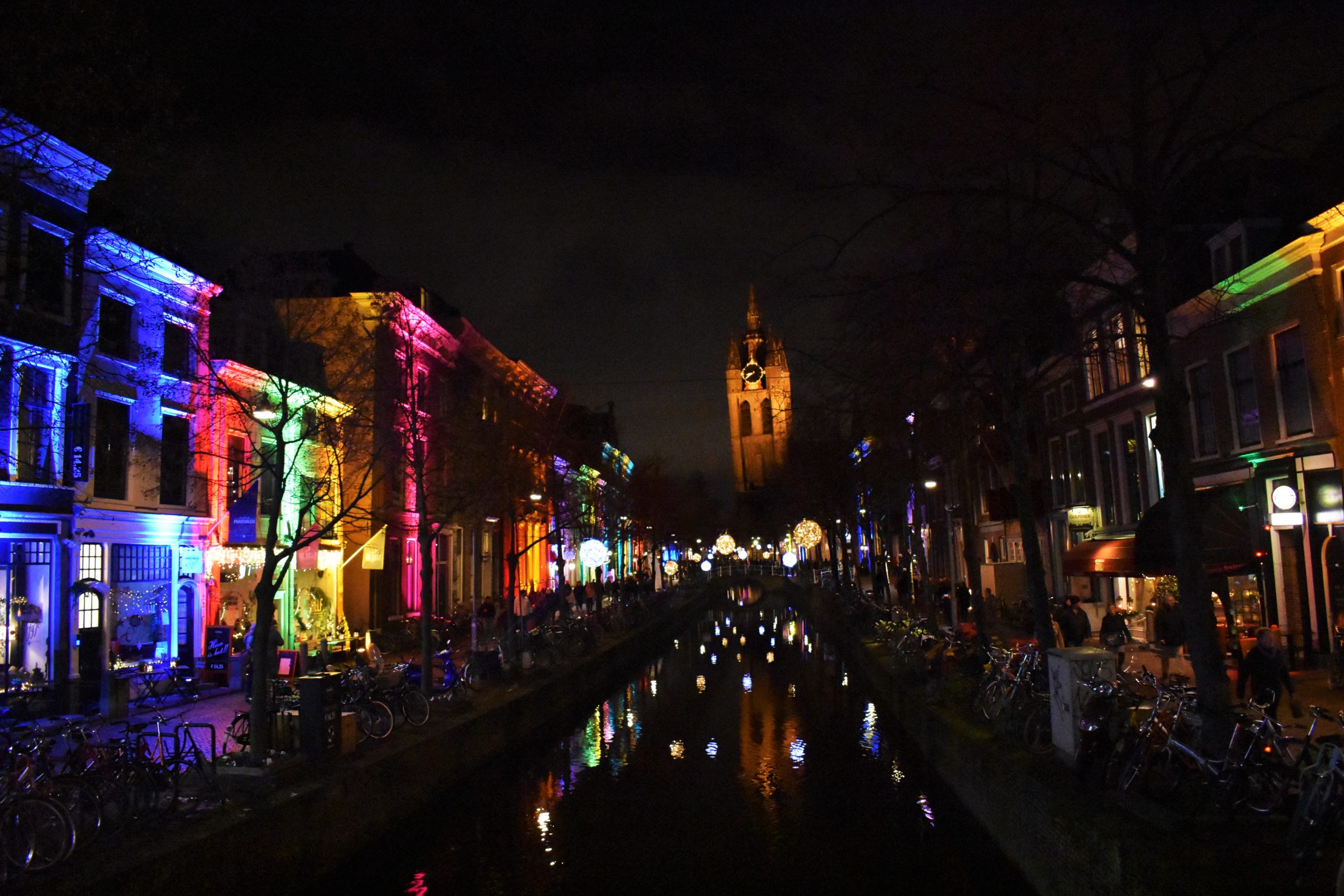 A curiosity: the Old Church (Oude Kerk) originating from 1246, has a 75-metre high tower known as Scheve Jan = "Skewed John", leaning almost 2 m from the upright vertical position! That's a lot! From some angles, especially approaching it from either side of the beautiful canal street Oude Delft, you totally have the impression that the tower is going to fall any minute. But it's still there (at least at the time of publishing this article). A nice nearby café Stads Koffyhuis (address: Oude Delft 133) offers a coffee&chocolate drink called The Delft Slanting Cup – in an especially designed leaning-shaped cup. It's quite lovely!
The Old Church is a burial place of some of the most important Dutch people, including heroes, noblemen, artists and scientists, such as painter Johannes Vermeer (1675) and inventor of the microscope Anton van Leeuwenhoek (1723).
5. Vermeer's museum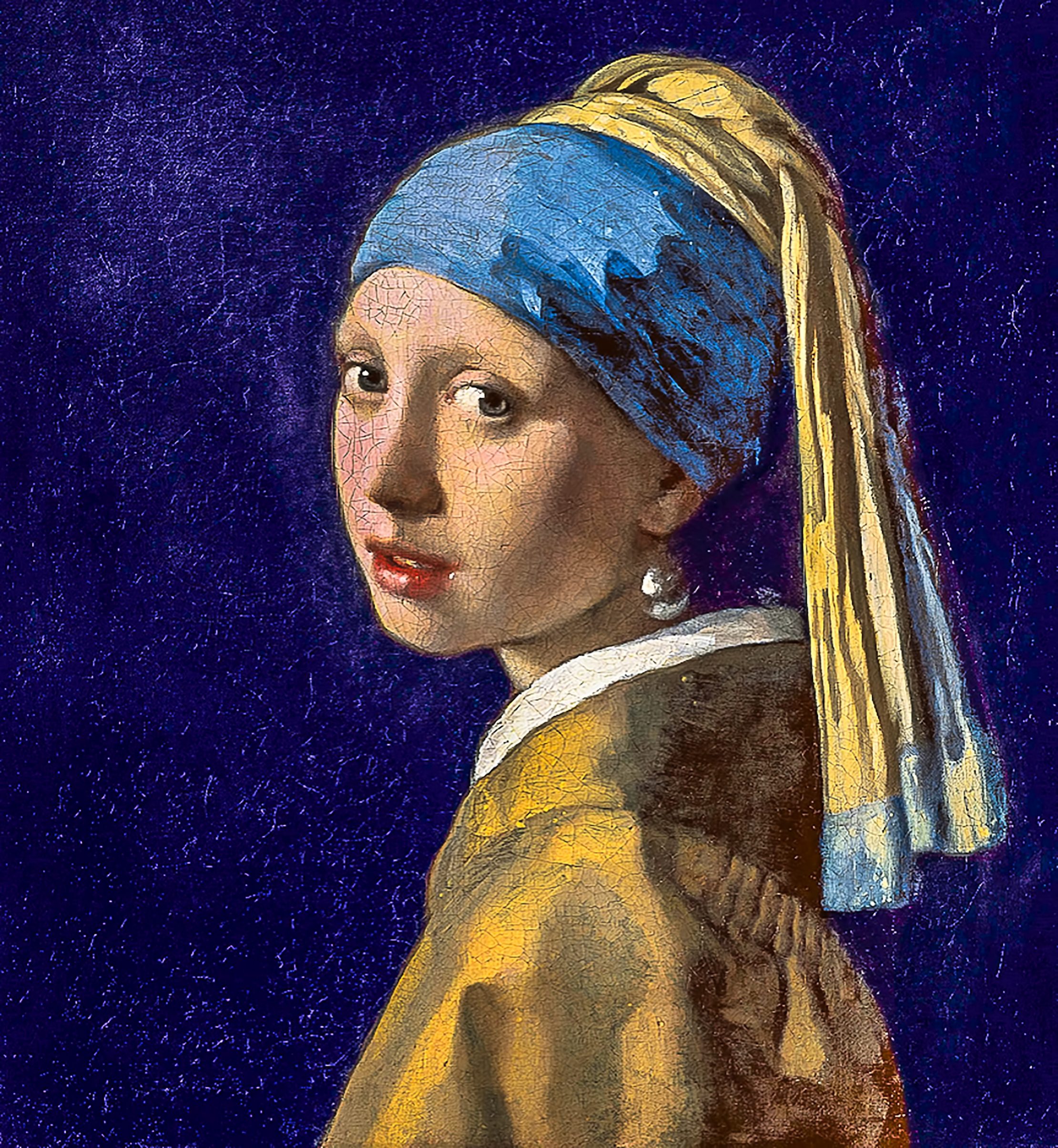 Johannes Vermeer (1632 –1675) was one of the most appreciated painters of the Dutch Golden Age. He was not only born in Delft – apparently he hardly ever left his home city. Check out Vermeer Centrum Delft (address: Voldersgracht 21) for an extensive explanation of the times he lived in, the influences he was under, and most interestingly – his masterful use of light in all its forms and colours. The museum doesn't possess any original Vermeer's paintings. The most famous paintings by Vermeer are exhibited in Mauritshuis in The Hague ("Girl with a Pearl Earring") and in Rijksmuseum in Amsterdam.
6. Dutch white-blue pottery comes from Delft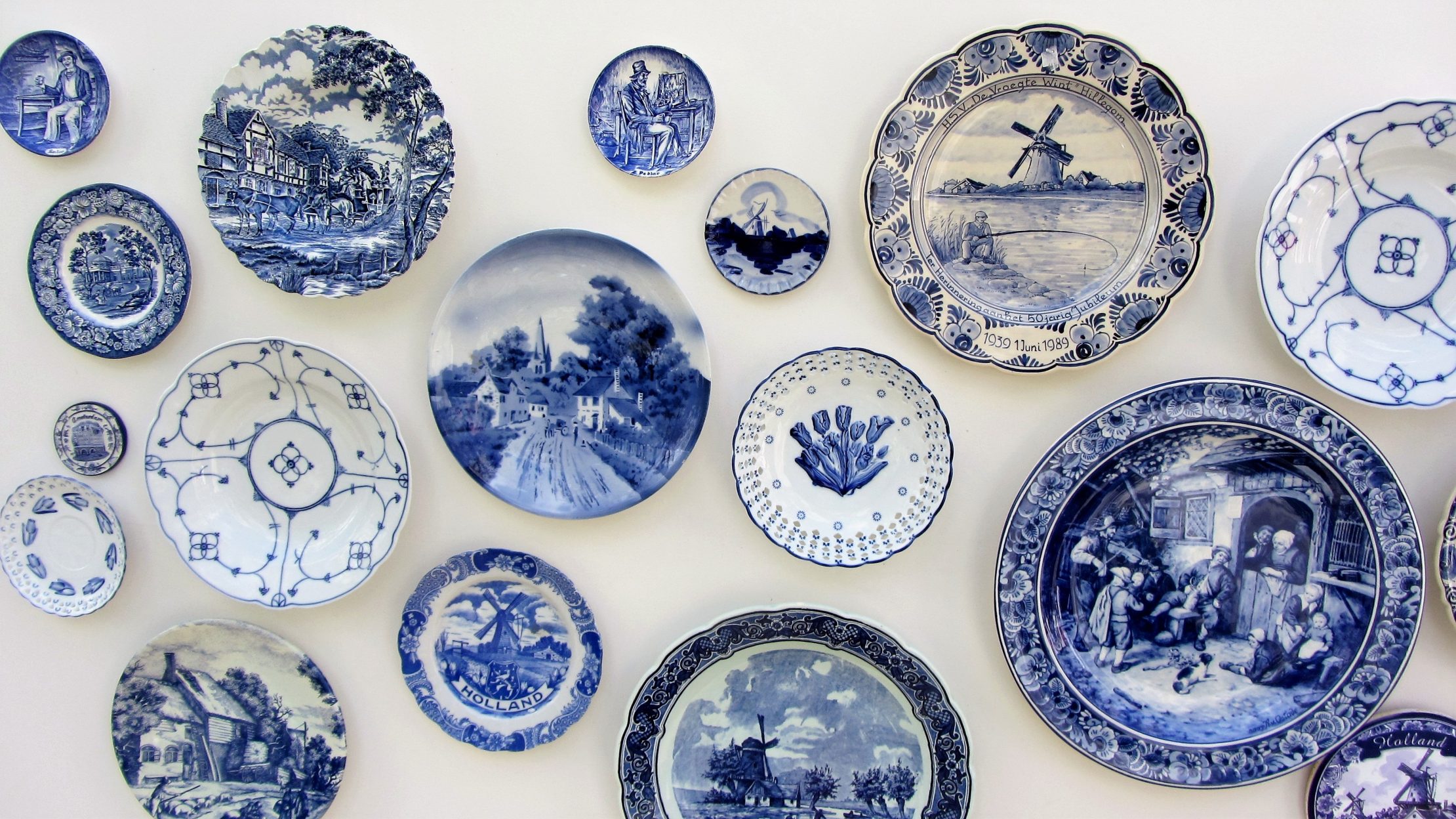 Dutch porcelain is called Delftware or Delft Blue. In whichever Dutch city you see the delicate porcelain painted with indigo blue with elaborated scenes and figures, its origins are almost always in Delft. Delftware was one of the major commercial and export products of the country in 17th and 18th  centuries. There is Royal Delft Museum of the factory active since 1653 (address: Rotterdamseweg 196).
7. It has the coolest windmill – to visit for free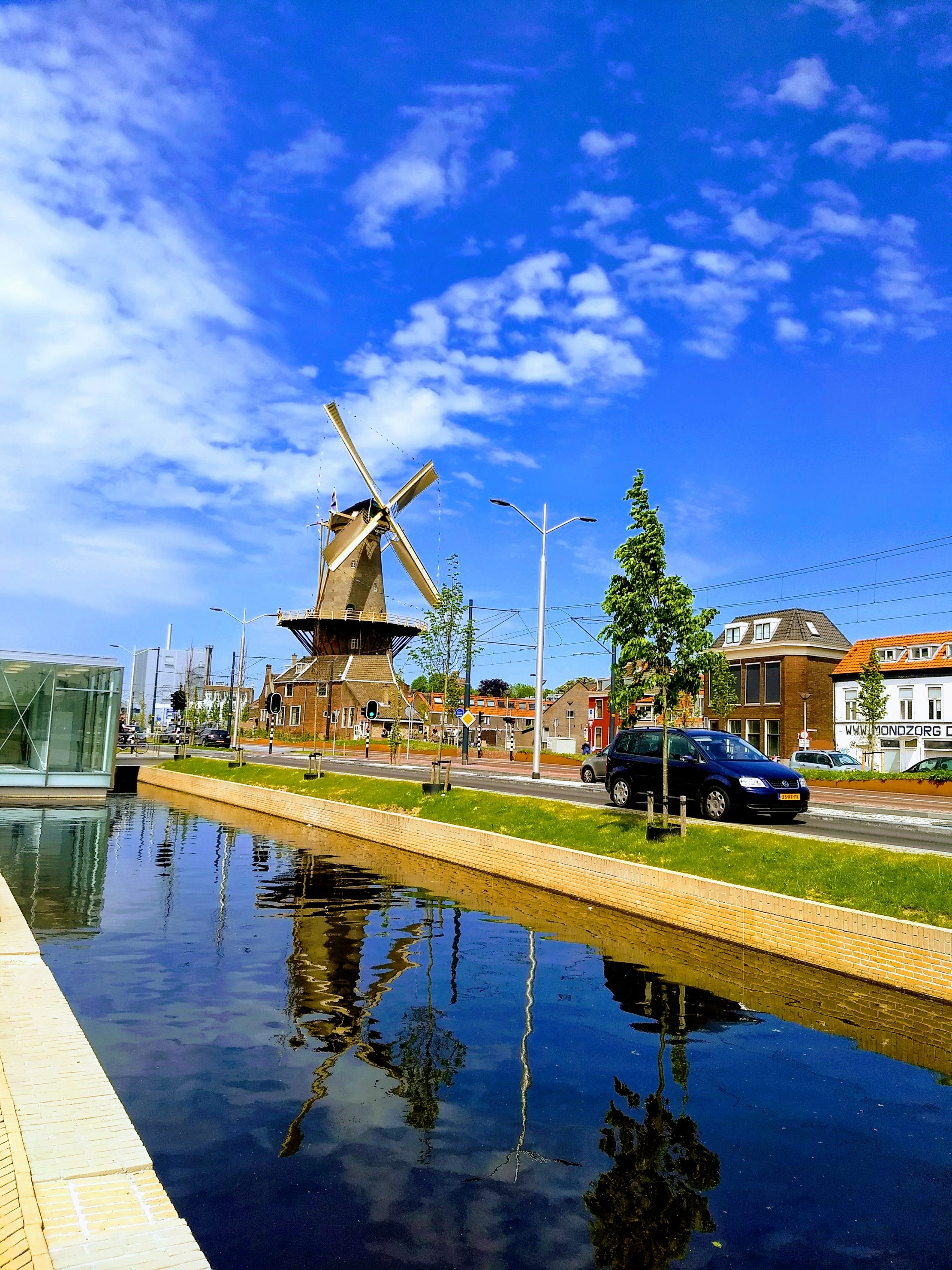 Beautiful Delft windmill's name is De Roos (Rose) and it's a monument from 1679. It's the only windmill left out of 18 that existed here since the 14th century. You can see its outline when you go out of the impressive main train station, at the far end of the main street in Delft, Phoenixstraat (address: Phoenixstraat 112). The windmill is several storey high and the fantastic thing about it is that you can explore it freely on your own. Nice owners keep it open free of charge and often they are keen on teaching you how to operate the windmill's "sails". Don't miss the terrace in one of the highest floors – it has a lovely view over the city centre and the main street. The windmill shop sells fresh pastries and bread from its own (wind)milled flour and some pleasant souvenirs, such as windmill forms for cookies.
8. Charming flea market every Saturday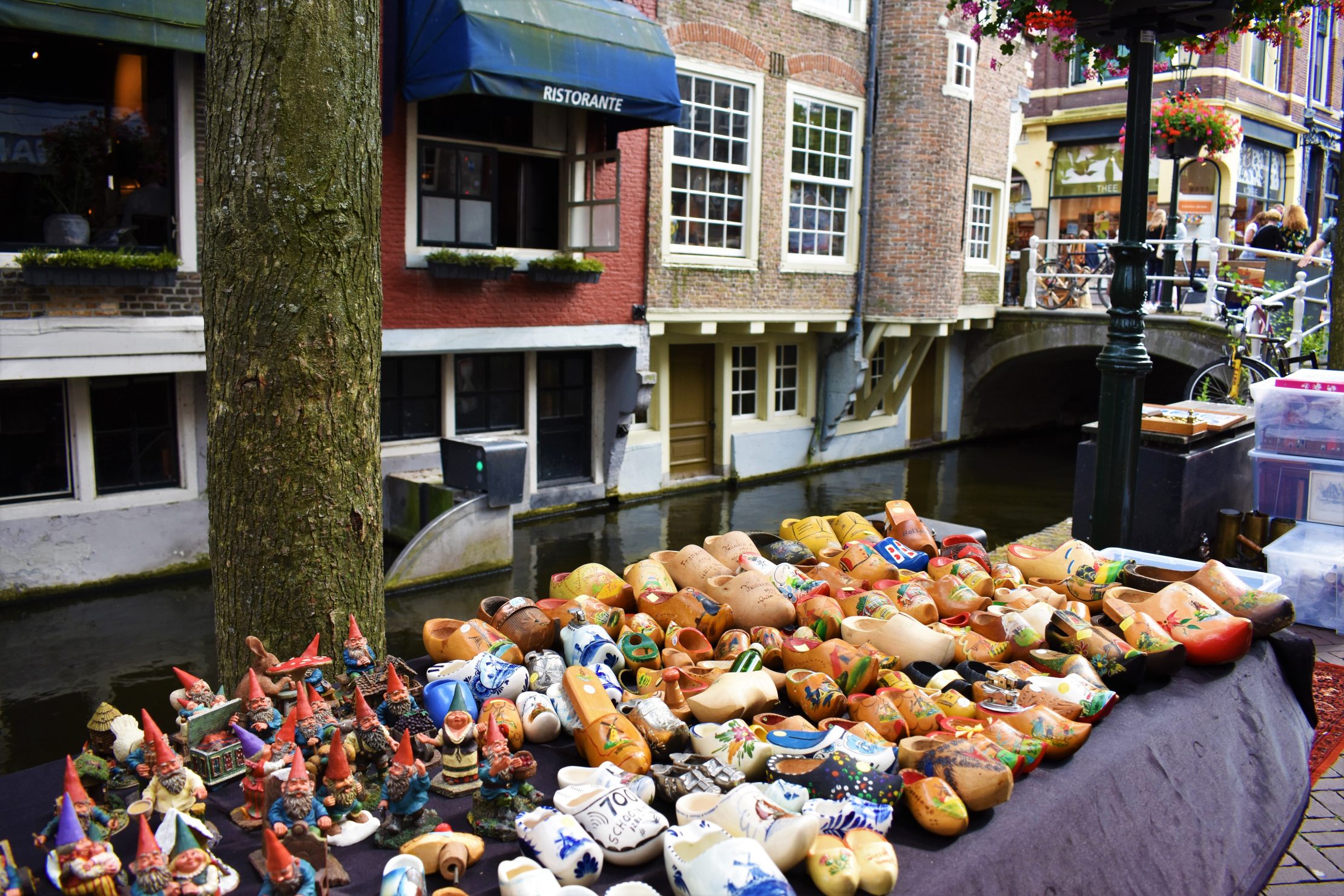 If you want to experience some truly Dutch atmosphere, come to the town on a market day! There are markets every Thursday and Saturday, but the latter is much more picturesque. Along the canals and historical alleys, street vendors open their stalls with all kinds of second-hand vintage objects, from used clogs (wooden Dutch shoes) to sets of Delftware, from vintage shoe-tied iceskates to metal goblets. There are lots of nice items to buy as souvenirs, but mostly the atmosphere is great, there is noisy music, a happy crowd and tasty cookies, such as stroopwafels.
9. Cow statue on the old cattle market square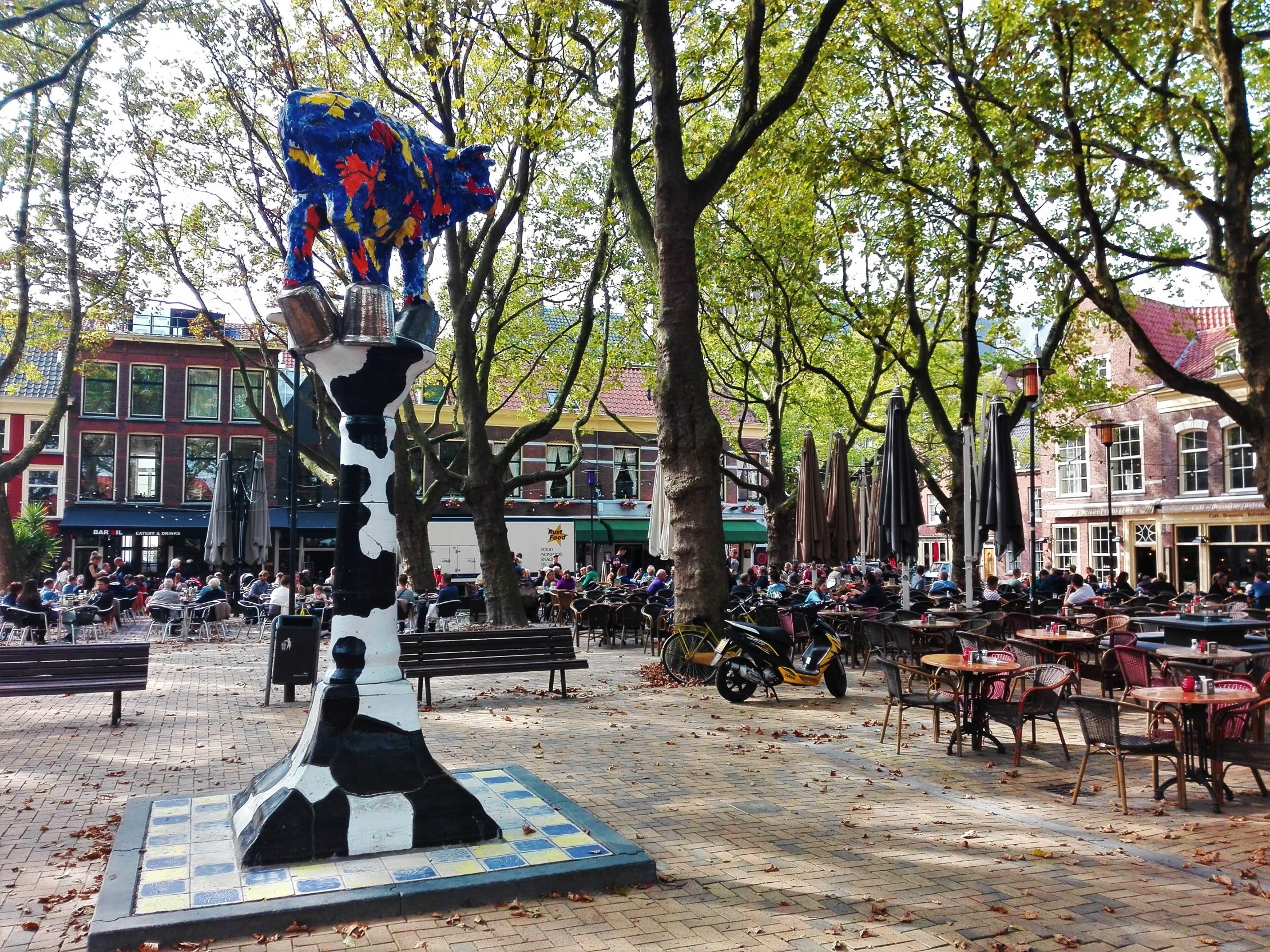 There are several beautiful historical squares in Delft, located close from one another. The main square is lovely Grote Markt, hosting a market on Thursdays. Then there is Brabantse Turfmarkt, hosting a flower and food market on Saturday. The most charming one, though, is Beestenmarkt. This nice square shaded by trees was used as a cattle market, and there is a clear sign of it – a super cool statue of a psychedelic-coloured cow on "high-heels" of milk jugs on a cow-patterned pedestal. My favourite Dutch sculpture. Epic. Beestenmarkt becomes a centre of entertainment in the evening, and on weekends throughout the day. Some of the best cafés and restaurants in Delft are located here (see below).
10. Pubs, bars and restaurants in Delft are spectacular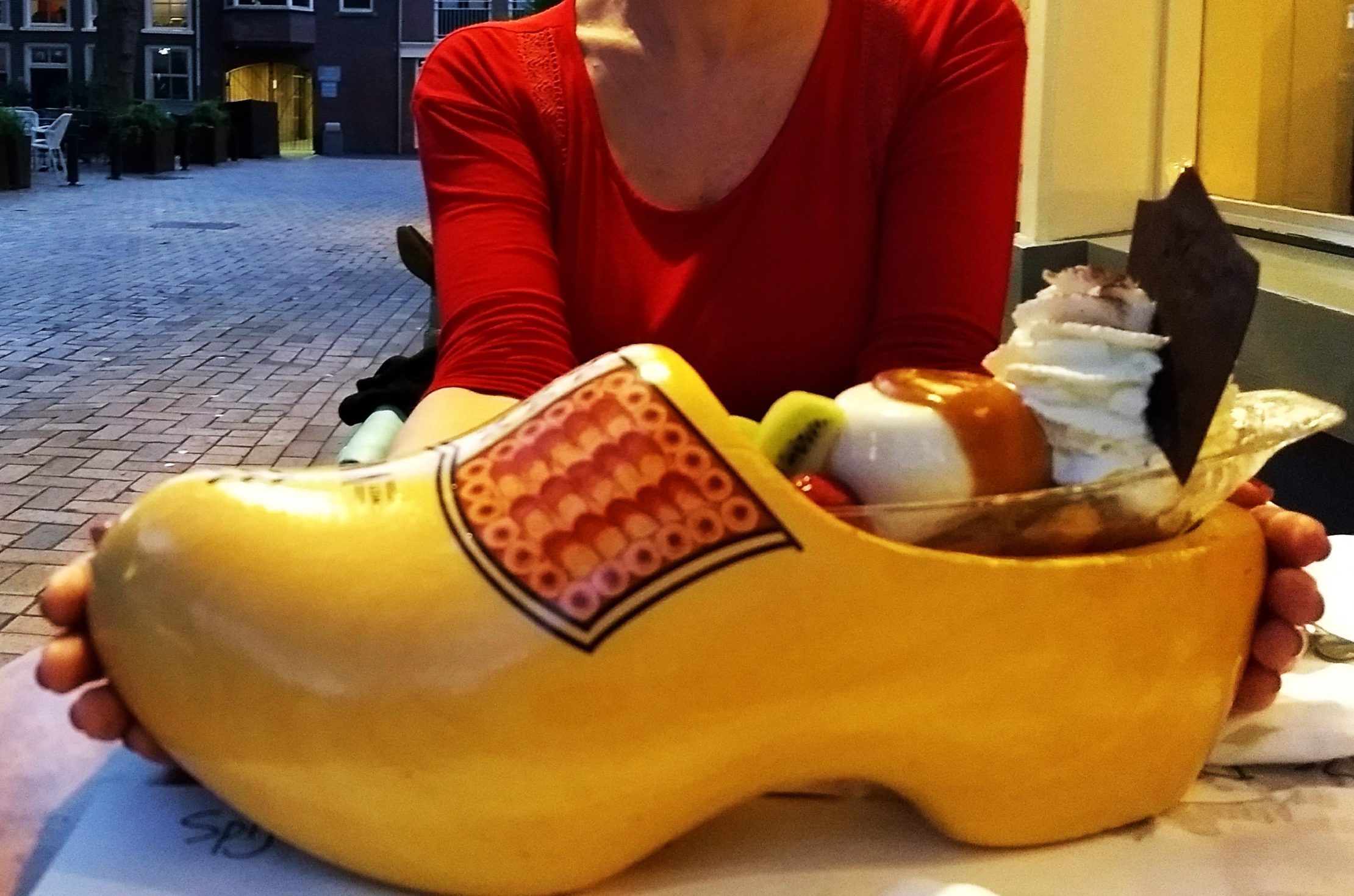 My favourite foodie highlights in Delft include a dessert served in a clog – you know, a wooden Dutch shoe ;) You'll get it in Spijshuis De Dis (address: Beestenmarkt 36). It is also one of the best restaurants serving Dutch food in town. The dishes are elaborate and full of surprises.
For more Dutch food go to 't Postkantoor (address: Hippolytusbuurt 14), it serves pretty great dinners, but be sure to book beforehand.
Then, there is the best apple pie in town, with crazy amount of whipped cream – in the beautiful – both inside and outside – cafe Kobus Kuch (address: Beestenmarkt 1), with a small unicorn jumping over one of its windows.
The most charming pub is the Belgisch Bier Café Belvédère (address: Beestenmarkt 8), with extensive collection of the world's best Belgian beers.
A pub located in a truly unique setting is Eetcafé De Ruif (address: Kerkstraat 22-24) with its lovely little pontoon terrace overlooking the canal.
11. It's not crowded, but always lively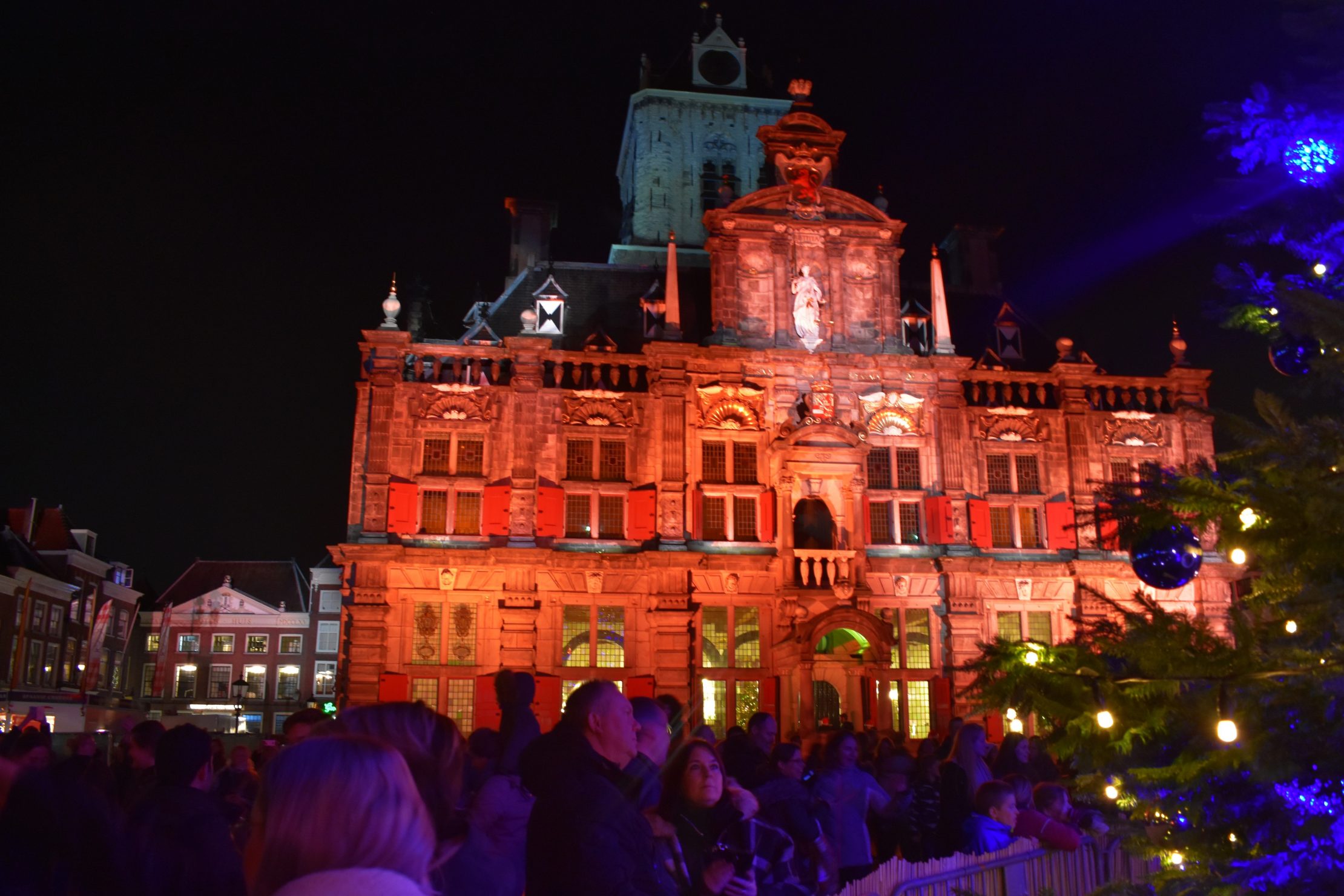 Apart from the market days (Thursday and Saturday) and local holidays, Delft never seems crowded, but it maintains a lively, dynamic atmosphere. If you feel overwhelmed by crowds in Amsterdam or Rotterdam, you can catch a breath here, it's definitely relaxing. It never feels boring, there are so many places to go and in the evening restaurants, pubs and bars fill with people.
***
And there is one more important reason to visit Delft: it's the current headquarters of euroviajar.com!