Discover what to do in Amsterdam – top attractions and activities to make the best of your stay.
Amsterdam is like no other city. With its wide canals, crooked houses, thousands of bicycles, free use of marijuana, the Red Light District and crazy parties it definitely has its own style. Amsterdam is vibrant, dynamic, friendly and gives you the sense of freedom. It is also a great cultural mix – you will quickly notice that it is a truly cosmopolitan city. It is ideal to visit at any time of the year and makes a perfect weekend getaway.
1. Canals – the flowing streets of Amsterdam
Canals are one of the most striking tourist attractions in Amsterdam – they are everywhere, the canal area is really vast. The canals of Amsterdam cover the length of about 100 kilometers, with about 1,500 bridges of which some are drawbridges, and 90 islands. Along the canals you can admire over 1,550 monumental buildings. To see the canals and their buildings up close, take a cruise or a tour of the bridges.
In the 17th century, the international commercial development of the city demanded a wider space for traffic and transportation. A thorough city planning resulted in a completely artificially built port city with main canals forming concentric belts around the city.
Such a city layout is considered a masterpiece of hydraulic engineering and so the canal ring area of the Dutch Golden Age (17th century)is a UNESCO World Heritage Site.
Four most important historical canals of Amsterdam that you just can't miss are: Herengracht, Keizersgracht, Prinsengracht and Singelgracht.
2. Take a boat trip – it's really cool!
We definitely recommend a boat trip: it's a unique experience, it's fun, and it will allow you to get to know the city from another perspective, as well as dazzle your eyes with the fascinating views of the characteristic 17th century houses with their narrow and high facades with fancy roofs. You will also see floating houses, the "canal houses" – boats and platforms where people live throughout the entire year. The cruise will also take you to places with historical monuments seen from another point of view, and diverse small neighbourhoods of the city, often of a distinctive character.
To be sure that you find an available spot on the dates you are visiting the city, better book the boat trip in advance.
3. Rijskmuseum – explore Dutch culture
If you wonder what to do in Amsterdam on a rainy day (and there are many in any season!), explore the impressive cultural heritage of the Low Countries. Actually, explore it on any day, it's really spectacular.
The Rijksmuseum or The Museum of the Netherlands in Amsterdam is the most important museum in the country – it houses one million of works of art and crafts, and it's famous for its design and its history. It has a privileged place in Museumplein and its impressive building, combining Gothic and Renaissance styles, is one of the main landmarks of Amsterdam.
The main objective of Rijksmuseum is to show the history of the Netherlands. It contains masterpieces of Dutch (Rembrandt, Van Gogh, Vermeer) and international painters, as well as costumes from other eras, dollhouses (have you read or watched "The Miniaturist"? The dollhouse that inspired the story exists and you can see it in Rijksmuseum!), furniture, jewellery, decorative arts and much more in over 200 rooms. Don't miss the spectacular old Cuypers Library, the elaborate internal garden and the passageway – surely that's the only museum on Earth where you can bike through the building!
Like in other large museums, there are not enough hours to go around and it is usually full of tourists, so you must plan and buy tickets in advance.
4. Van Gogh Museum – totally worth a visit
The fascinating Van Gogh Museum is extremely popular and the tickets must be booked in advance. It is a huge and very well displayed collection showing the artistic development of this great icon of art, as well as explaining his life, loneliness and struggles. It shows how Van Gogh perceived the light and colours, and how he decided, step by step, to create his own world.
In the permanent exhibition of the museum you will see the masterpieces such as an impressive collection of "Self-portraits" from different periods showing Van Gogh's artistic evolution, "Bedroom in Arles", "Irises", etc., accompanied by information on his life in the time of painting them.
Most of very interesting temporary exhibitions refer to the subject of art in the 19th century.
You can also visit a well-stocked library and a souvenir shop with stylish and original items reproducing Van Gogh's themes.
5. Other museums – Amsterdam has almost 100 of them!
If you want to explore more, Amsterdam has one of the highest numbers of museums in the world. Famous ones include Anne Frank's House and Rembrandt's House. Some unusual ones include: Tulip Museum, Sex Museum, Marijuana Museum, Cheese Museum and even Funeral Museum! In case you didn't know what to do on a rainy day ;) We will write a guide to Amsterdam museums soon, so stay tuned.
6. Dam Square – the emblem of the city
The Dam Square is one of the most popular and representative sites in Amsterdam, since it concentrates a good part of its monuments and is a point of reference.
To understand a little what makes it so special, it will be necessary to recall its beginnings. It was originally created as a dam on the Amstel River – and hence the name of the city itself. Later this area was filled with so much commercial activity that the town hall was built there, then over the years it was provided with important buildings that are either a part of it or its surroundings.
In Dam Square you'll see the imposing Royal Palace or the old City Hall of Amsterdam in neoclassic style, built in 1655. Next to it, there is located the beautiful Gothic New Church (Nieuwe Kerk) of the 15th century. Then, you'll notice the National Monument obelisk for the victims of WWII that reaches 22 meters in height, in which urns containing earth of diverse regions of Holland are conserved.
7. Rent a bike – to feel like a Dutch
In Holland everybody moves by bike. There are actually more bikes than people in the country (it's a fact!). Bike lanes are even four times wider than pedestrian zones. Remember that bikes have priority in Amsterdam, so take advantage of it and hop on yours.
In Amsterdam over half of the traffic is by bicycles and you quickly realize why – on relatively narrow streets by the canals it's the best option. Cycling through the streets is a great idea, since you can park your bike anywhere – to shop or visit historic sites – and move wherever you want to manage your time. Renting a bike costs only up to 10 euro a day, so don't overpay – you'll find plenty of options.
8. Go to a coffeeshop – for a classic Amsterdam experience
In Amsterdam, going to a coffeeshop (yes, in Holland written as one word) is part of the travel experience. In case you don't know it, in Holland a "coffeeshop" doesn't literally mean a coffee shop and people don't really go there for a coffee ;)
Before entering you will see a normally looking bar or pub, but once inside it, you will discover a different world. These are the places where the use of marijuana and hashish is legal and there is a menu of smoking products for sale. There you can take marijuana not only by smoking it, but also eat it in the form of a cake ("space cake") or drink it in a tea. And for non-cannabis users, there is an option to drink (regular) juice, water, coffee or tea.
The absurd contradiction is that the sale of alcoholic beverages or smoking of tobacco is not allowed in coffeeshops :) For this you will have to go to other bars and pubs in the centre of the city.
The oldest coffeeshop in Amsterdam is The Bulldog (since 1975), and nowadays there are many Bulldogs around the city, each of a bit different character.
You will also see many Cannabis Shops or Seeds Shops, selling seeds and different products and gadgets related to marijuana. Be careful with joints – people often say they were stronger than they thought. If you don't like smoking – just enter and see how these places look like, they are often pictoresque and they are surely huge part of the myth of Amsterdam.
Let's be honest – everybody is a bit curious about the famous Red Light District (the sex quarter – De Wallen). And don't be shy to see it – the truth is that every tourist passes there. It's just something you can only see in the Netherlands and Belgium: prostitutes displaying themselves in shop-style windows, in rows of identical rooms. Prostitution has been legal here since 1815 and it's treated like any other business – they pay taxes. The entrances to "rooms" are lit by red light and the girls are, ehm, dressed for the job, and actively inviting the potential customers. Quite a show! It's really shocking for the foreigners. What's most shocking though is that a huge part of the Red Light District is located next to the Old Church of Amsterdam! How did they come up with this idea?
There are plans of the city council to relocate the historical Red Light District of Amsterdam from the centre to the outskirts of the city to give it less attention and change the image of Amsterdam. Before it happens, see this famous district while it still exists.
Read more about Red Light District here.
10. Enjoy exciting nightlife of Amsterdam!
One of the main nightlife areas in Amsterdam is Leidseplein. It's a pretty area, with typical crooked houses, historical buildings and colourful illumination that add up to the atmosphere. Some good pubs include: Paradiso, Melkweg, Stadstschouwbug, The Bulldog Palace.
Another area of vibrant nightlife is Rembrandtplein. Some of the coolest clubs of the city are right here, such as stylish Escape Amsterdam and AIR Amsterdam. There are also many bars here and it's always bustling.
The area of Dam square and Red Light District is also full of bars and pubs, always crowded and vivid.
For cozy and typical small pubs with freindly locals and a canal view, head to Jordaan area.
11. Windmill spotting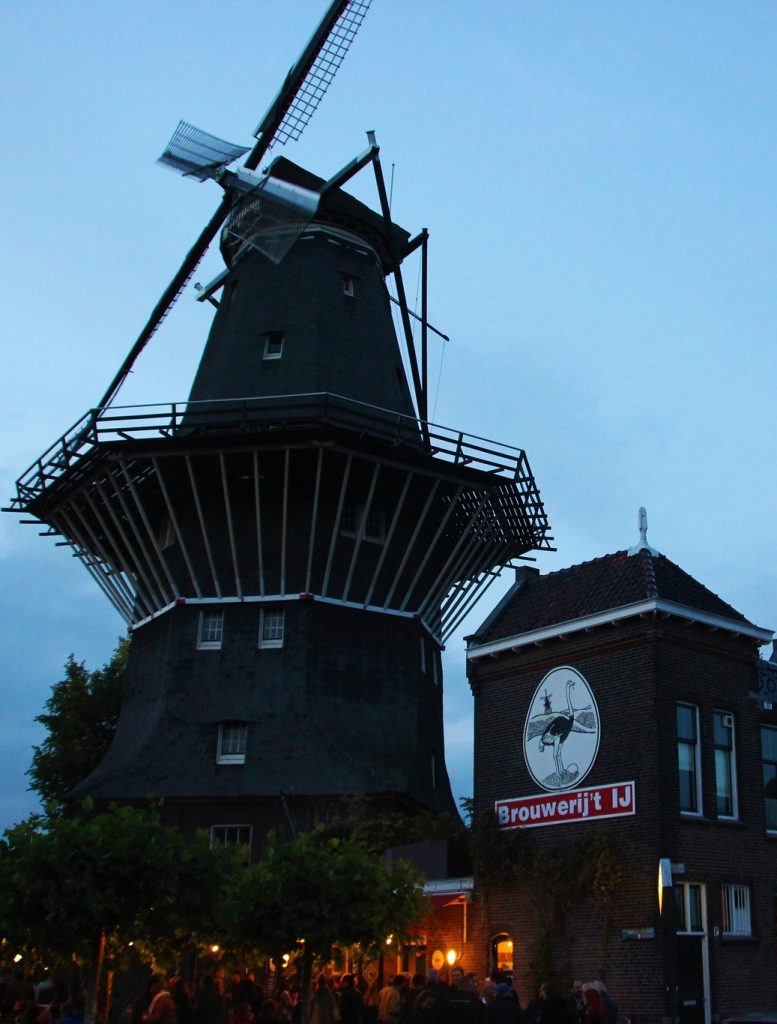 As we all know, windmills are one of the main symbols of the Netherlands – together with tulips, clogs and cheese. In the past when they were needed, the Netherlands had an unbelievable number of 10,000 windmills! Amsterdam has as much as 8 historical windmills within the city limits. It's best to see them by bike, as mostly they are not that close to the centre. Here are their names to make it easier for you to found them: Molen De Otter, Molen van Sloten, De 1200 Roe, De 1100 Roe, Riekermolen, D'Admiraal, De Bloem, De Gooyer.
Euroviajar Tip:
Go to De Gooyer windmill with adjacent awarded artisan microbrewery Brouwerij't Ij (its crazy logo depicts an ostrich they adopted – and the windmill) and have a beer with a windmill view. Brewery tours with beer tasting are also available.
However, if you want to see some really pretty windmills in an idyllic, typically Dutch scenery, go for a half-day or a day trip to Zaanse Schans or Kinderdijk. See the options for short trips from Amsterdam in our guide.
12. Heineken Experience – and beer tasting!
Heineken is the second biggest beer company in the world (until recently it was No. 1), owning some of main beer brands around the world. It all started here in Amsterdam in 1864, and you can visit the original brewery on an entertaining "sensational interactive tour". It gets even better: Heineken Experience obviously includes beer tasting!
13. A'DAM Lookout – and the scariest swing ever!
If you still wonder what to in Amsterdam, here is a special attraction: a 360 degree view of Amsterdam from a tower with a cool rooftop bar and restaurant. We all know that Holland is perfectly flat, so in absence of the mountains, you need a tower to see the city from a different perspective. A'DAM Lookout gives you the bird's-eye view of Amsterdam. Moreover, if you are a real daredevil, it has an extra-scary option… the highest swing in Europe – Over The Edge, 100 metres above the ground!
14. Shopping in Markets and Creative Boutiques
The floating flower market – Bloemenmarkt – is one of the most popular and visited in the city – you can find here all kinds of flowers, especially world-famous Dutch tulips.
Visit also Albert Cuyp market where you will find products of all kinds: food, spirits, books, decorative objects, clothing, gifts etc.
Amsterdam is also famous for creative boutiques with fashion, jewellery and design.
See our detailed guide of shopping in Amsterdam with shopping areas, list of markets with addresses and opening hours and ideas for 11 best gifts or souvenirs from Holland.
There are plenty of great places to see around Amsterdam – only 30 mins or 1-2 h away by train. If you want to see the famous Dutch fields of windmills, tulip fields, traditional villages, charming and very Dutch towns, the royal city – read all about them in our guide to the 15 Best Places To Visit in The Netherlands.
Here are some good deals for organized trips to a variety of beautiful places in the Dutch countryside:
Other ideas on what to do in Amsterdam
Amsterdam is such an exciting city with so much to offer, that there are many more things to propose. If you have any recommendations on what to do in Amsterdam or want to share any great tip – leave a comment!