Let us guide you through shopping in Venice, suggesting what to buy, where find shops of specific products and best markets of the city.
The power and richness of Venice has historically always been linked to the commerce. The subtle and mysterious beauty of the city doesn't veil its commercial character also nowadays. In every narrow alley and hidden corner you see endless rows of botteghe – little, mostly artisan shops. Certain Venetian products have been world-famous for centuries, like the carnival masks, glass of Murano and laces of Burano, and sophisticated leather products.
Souvenirs, Gifts and Typical Products from Venice
Venice offers some of the most sophisticated, original and high quality products in the world. The choice of spectacular handmade products is overwhelming. Here are some tips for things worth taking back home.
1. Carnival Masks
One of the most demanded items for shopping in Venice and the souvenirs most acclaimed by tourists are the carnival masks. The legendary Venetian carnival is one of the most popular in the world and masks are one of the essential accessories in all the celebrations.
The Venetian masks have the particularity that their design and elaboration are totally handmade, from their contour made with clay, to the decoration and painting that is done with great care, skill and dedication.
These masks are usually made in craft workshops and each of their manufacturers has his own method. The price varies depending on the design, work and materials used, the cheapest can be purchased for fifteen or twenty euro in any store. Some shops of popular masks in Venice are Tragicomica (located in Calle San Polo), Cà del Sol and Bottega dei Mascareri. A curiosity: the latter was in charge of elaborating the Carnival masks for the film Eyes Wide Shut starring Tom Cruise.
Apart from the masks, look for tricorni: three-cornered Carnival hats.
Read all about the Carnival masks and their secret meaning here.
2. Murano Glass
The Murano glass is a classic product of Venice, with an extensive historical trajectory that dates nothing less than from the 13th century. The Murano glass objects constitute true works of art that can be bought in workshops and souvenir shops, sometimes at very cheap, other times at exaggerated prices. You will find everything: from vases to lamps, from earrings to ashtrays, from goblets to necklaces.
3. Burano Lace
Venetian lace has been the symbol of the finest level of lacemaking art for centuries. The patterns are so extremely delicate and intricate that they were called "points in the air". They were used for collars and cuffs for both women and men, and for church robes. Nowadays, you can purchase lace tablecloths, napkins, collars, gloves, decorations for windows, umbrellas and many other items. Look for them in the island of Burano, and if you don't have time to go there, you will find them in souvenir shops in the main island of Venice.
4. Handmade Marbled Paper and Stationary
Handmade marbled paper is another typical Venetian product, used for decorating and making handicrafts. It can be purchased in stationary shops throughout the city. Venetian stationary products are like nothing you have ever seen before – they look like something a king would use. Absolute exquisite!
5. Handbags & Accessories
Italy is paradise of refined and sophisticated accessories that you will just want to have. Leather goods are of sensual and seductive design, always perfectly elegant. The choice of handbags made in Italy exceeds anything you can find in other countries, both in terms of designs and the incredible range of colours. Personally, I never leave Italy without a new handbag. Other recommended items include leather gloves, wallets, belts.
Some affordable producers include: Carpisa, Camomilla, Motivi, Alviero Martini Prima Classe.
Less affordable: Piquadro, Coccinelle.
The most famous: Prada, Valentino, Furla, Fendi, Miu Miu, Gucci.
6. Fashion
Venice is one of the most luxury and high-end city in the world, often hosting the rich and famous. Strolling on its street, you will surely see some spectacular fashionistas in dresses you hardly ever see elsewhere. Therefore, if you feel rich, this is the place to go for extreme luxury fashion shopping. Those who wish to acquire haute couture garments of exclusive Italian brands including Prada, Versace, Gucci, Valentino and Bottega Veneta, etc., should know that all the hot spots are concentrated around Piazza San Marco. It is one of the main shopping areas in the city where you can spend the whole day in exquisite boutiques, making stops in many cafes, bars and restaurants while enjoying the charming environment.
Those looking for more standard fashion brands at more affordable prices can find Italian brands as popular in Italy and Europe as Stefanel, Miss Sixty, Pinko, Benetton, among others, located between Campo San Bartolomeo and Santi Apostoli.
7. Shoes
Italian shoes are renown for style, sexy and sophisticated forms, softness of leather and durability.
Some affordable producers include: Nero Giardini, Igi&Co, Cafè Noir, and innovative and super-comfortable Geox.
Less affordable: Sergio Rossi, Tod's.
The most famous: Armani, Valentino, Gucci, Just Cavalli, Salvatore Ferragamo, Bottega Veneta.
8. Cheese
Range of Italian cheeses is infinite. The most famous ones include: Parmesan (Parmigiano Reggiano), Grana Padano, Gorgonzola, Mozzarella di Bufala, Provolone, Pecorino Romano, Asiago.
A selection of excellent cheeses can be found in any grocery store or supermarket.
9. Cold Cuts
There is plenty of choice of Italian cured meats. The famous ones include Prosciutto di Parma, Bresaola, and different types of salame, salsiccia, guanciale or spicy sausages with chilli from Calabria. Again: look for them in a grocery store or supermarket, or in a specialized delicatessen shop.
10. Textile Products
Among many other things, Venice is famous for great quality textiles, such as silk and velvet with embroidery in retro style. It is worth looking for some spectacular, opulent bed covers, pillowcases or curtains of sophisticated patterns – they will look like taken straight from a palace!
Shopping in Venice
Venice has infinitely many luxury shops and small craft shops, and a few markets. The standard opening hours are from 9 in the morning until 7 in the evening from Monday to Saturday, although they usually close a couple of hours at lunchtime and the grocery stores are usually open from 8 in the morning.
For luxury brands, check out Portici – portico along Piazza San Marco, and Le Mercerie – the area between Ponte di Rialto and Piazza San Marco. Another address is Salizada San Moisè.
For artisan shops, the best area is along San Samuele. Carnival mask workshops are located in Castello area.
Souvenirs and more affordable items can be found in Campo Santo Stefano and Campo San Polo.
Guide to Markets of Venice
Market of Miracles in Venice: It is undoubtedly one of the best vintage markets in the world, ideal for people who want to bring highly original souvenirs of their visit to Venice.
Antique Market in Venice: It is a huge and fascinating antiques fair which takes place three times a year in Campo San Mauricio.
Rialto Market in Venice: Beautifully located Rialto Market is the most recommended when you want a typical and traditional place where fresh food is sold in stalls and stores.
Market of Via Garibaldi in Venice: It is very popular with tourists as various local products are sold at very low prices.
More on Shopping in Venice
This guide of shopping in Venice was prepared basing on my 4 visits to Venice. I hope you find it useful and easy to consult. Do you have any questions or suggestions? Don't hesitate to write them in the comments below!
More Shopping in Venice - Markets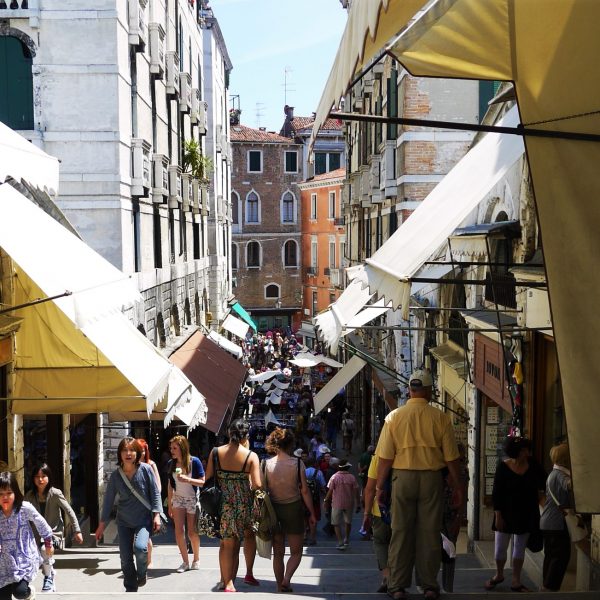 Rialto Market in Venice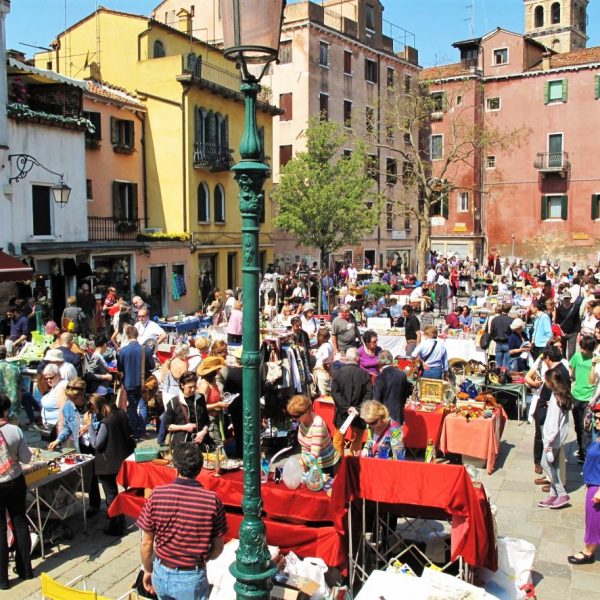 Market of Miracles in Venice – Mercatino dei Miracoli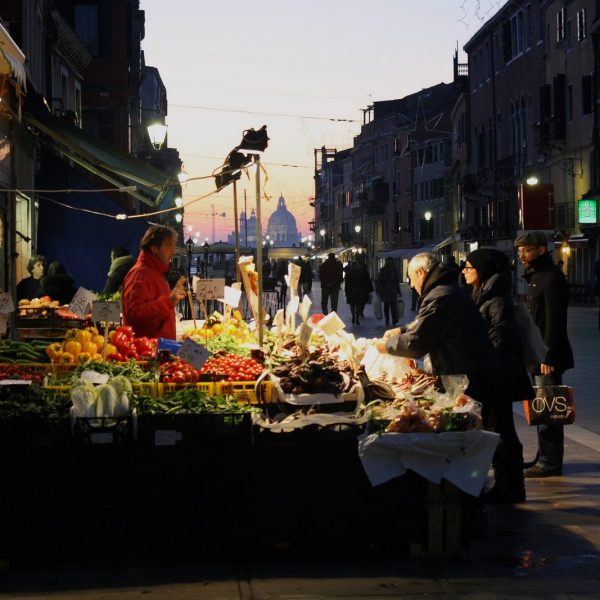 Market of Via Garibaldi in Venice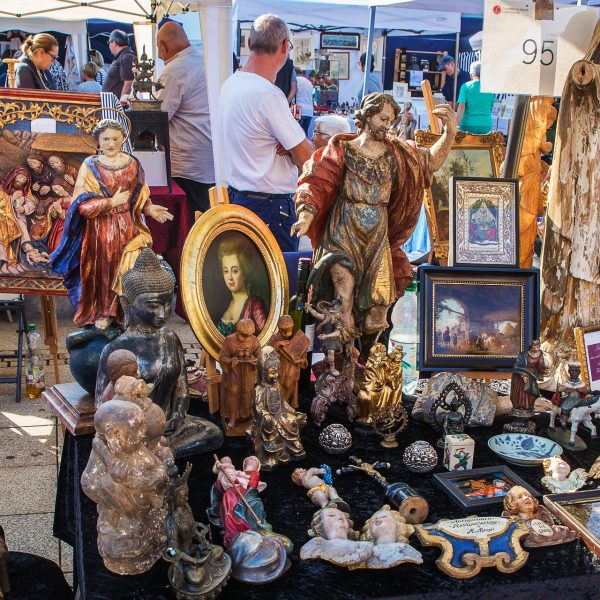 Antique Market in Venice